Creative writing for movies begins with a small idea or a motivational thought that has evoked any emotions into the mind of a screenwriter. Movies are nothing but emotions that are been transformed into a visual form with the use of characters, music, dialogues etc., through various mediums of communication. Composed with numerous departments and stages within film making, the writing stage requires at most involvement and dedication. Writing for a movie or a novel begins with one small concept that arise a question based on the motivation of the writer. These are the dramatic questions that will develop an entire story based on the genre in the process of scriptwriting.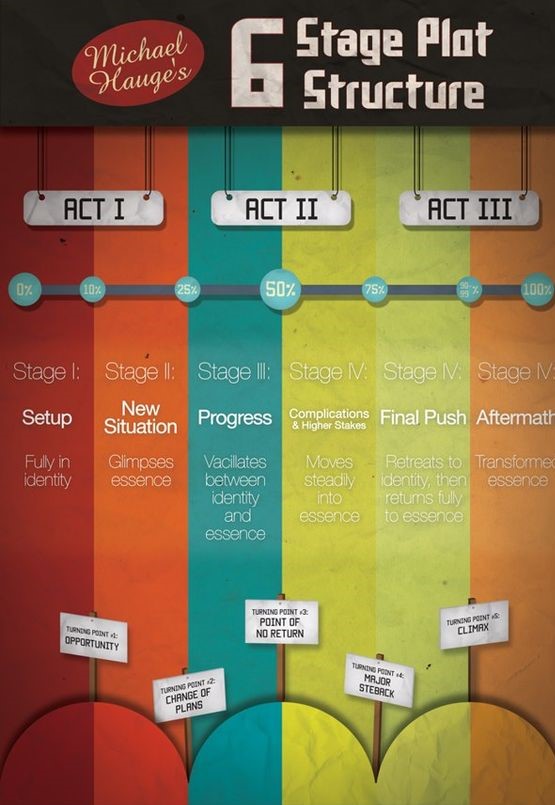 Since the beginning of the Theatre era and evolution of the Film industry till the present generation of digital film making or any other art form of Storytelling, the concepts and basic ideas always revolve around the basic interrogation that arise as the major dramatic question. These questions are the motivational facts that manage the magnitude of the story. Based on a thorough study about Film appreciation and Script analyzing, a French writer Georges Polti had sorted out a list of dramatic questions and released a book by the end of 19th Century, which is been followed till date. He has sorted out this list as a continued study of Carlo Gozzi, an Italian Playwright. "The Thirty-six Dramatic Questions" is a detailed list to categorize the dramatic questions that occurs in a story. It is been proved by the many ace film makers and screen writers that a story can never be written with an idea excluding the 36 Dramatic Situations.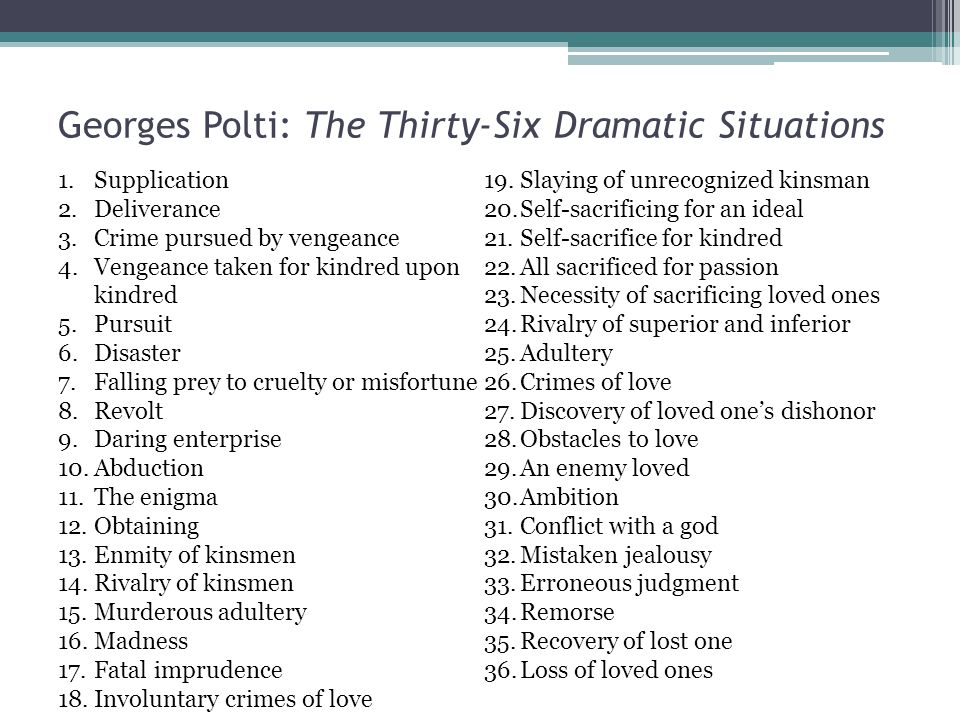 The Dramatic questions are as follows.
1. Supplication (The Book of Esther – 2013 Based on the book)
2. Deliverance (The Terminator – 1984)
3. Vengeance of a crime (Most of the Detective crime movies)
4. Vengeance taken for kindred upon kindred (The Lion King - 1994)
5. Pursuit (The Fugitive – 1993)
6. Disaster (The Birds – 1963)
7. Falling prey to cruelty or misfortune (Schindler's List – 1993)
8. Revolt (A tale of two cities – 1958)
9. Daring enterprise (Saving Private Ryan – 1998)
10. Abduction (Helen of Troy – 1956)
11. Enigma (Seven – 1995)
12. Obtaining (Forrest Gump – 1994)
13. Enmity of kinsmen (Kramer vs Kramer – 1979)
14. Rivalry of kinsmen (Legends of the Fall – 1994)
15. Murderous adultery (Diabolique – 1996)
16. Madness (Psycho – 1960)
17. Fatal imprudence (A river runs through it – 1992 – Based on a Semi Auto-biographical book)
18. Involuntary crimes of love (Oedipus The King – 1967)
19. Slaying of a kinsman unrecognized (Oedipus The King – 1967)
20. Self-sacrificing for an ideal (Joan of Arc – 1948)
21. Self-sacrifice for kindred (Cyrano de Bergerac 1950 – Based on a French Play)
22. All sacrificed for a passion (Leaving Las Vegas – 1995)
23. Necessity of sacrificing loved ones (Abraham and Isaac – Characters based on true events depicted in Quran)
24. Rivalry of superior and inferior (Rocky – 1976)
25. Adultery (The Bridges of Madison County – 1995)
26. Crimes of love (The Apostle – 1997)
27. Discovery of the dishonor of a loved one (Redeeming Love – 1916 – Based on Novel)
28. Obstacles to love (Pretty Woman – 1990)
29. An enemy loved (Romeo and Juliet – 1968 – Based on the Novel by William Shakespeare)
30. Ambition (Jerry Maguire – 1996)
31. Conflict with a god (Rosemary's Baby – 1968 – Based on a Novel)
32. Mistaken jealousy (Othello 1951 – Based on the Novel by William Shakespeare)
33. Erroneous judgment (Body Heat – 1981)
34. Remorse (Crime and Punishment – 1935)
35. Recovery of a lost one (The Deep end of the Ocean – 1999 – Based on a Novel)
36. Loss of loved ones (Love Story – 1970)
- VIKRAM KUMAR. B
(SCRIPT WRITER)- D'fine art